Yesterday I turned 40.
I know, I don't look 40, you don't need to flood the comments with that very obvious statement. 😉
So many people dread that number, that age.
Now that I am there, I am not sure why.
Is it a realization that life moves quickly? I see that in my kids, I don't need 40 to tell me.
Is it a fear of getting old? I don't need to fear that! I will stay as young as I want to!
Is it regret of how life has been lived to this point? I can't say I have any major regrets.
What is it that makes people dread 40?
I read this devotion a couple of weeks ago and loved the sentiment behind it.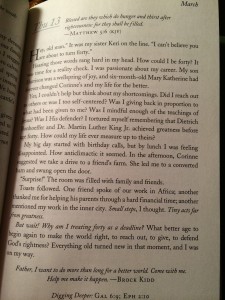 I love the way he ended this, "What better age to begin again to make the world right, to reach out, to give, to defend God's rightness?"
Forty isn't an ending of "being young;" it isn't time to decide to give up because you might not have achieved everything you wanted to by age 40; it isn't a time to worry and fret about being old.
Every day is an opportunity to look forward, to start a new chapter, to do something you haven't done before, or get better at something you have. Every day is "fresh with no mistakes in it" and awaiting you to "contribute a verse."
Every day. Including the one on which you turn 40.
O Me! O Life!
Walt Whitman
Oh me! Oh life! of the questions of these recurring,
Of the endless trains of the faithless, of cities fill'd with the foolish,
Of myself forever reproaching myself, (for who more foolish than I, and who more faithless?)
Of eyes that vainly crave the light, of the objects mean, of the struggle ever renew'd,
Of the poor results of all, of the plodding and sordid crowds I see around me,
Of the empty and useless years of the rest, with the rest me intertwined,
The question, O me! so sad, recurring—What good amid these, O me, O life?
                                       Answer.
That you are here—that life exists and identity,
That the powerful play goes on, and you may contribute a verse.
(Italics Mine)