This is it. It is August. Summer break is almost over.
Yesterday I told the kids that starting today (Monday) we were back to school-year bedtime routines and schedules. No more staying up late and sleeping in forever.
So this morning, this is what I found: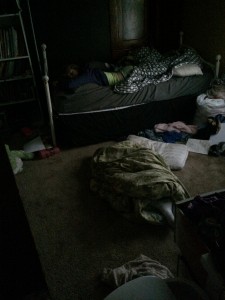 Apparently they needed one more sibling sleepover. Don't be fooled; they are both in there. Anne is on the bed and Ty is completely cocooned in the blanket on the floor. (Look for the white sock sticking out.)
This has been a great summer. We didn't do camps. We didn't go anywhere super exciting. We spent a lot of time at the pool. We spent a lot of time on the porch. We spent a lot of time on the trampoline. We spent a lot of time with the neighbors. We spent a lot of time with friends. We spent a lot of time with family. We rode bikes. We walked. We laughed. We swam. We took selfies. We just enjoyed our time together.
This week we will spend more time at the pool since it closes on Sunday. We will get registered for school. We will have our first Jr. Comets football game of the season.
Next week we will attempt to get the house in order, make sure we have all the necessary school supplies, and probably have one last hurrah – a day of family fun (which I will plan at the last minute I am sure).
And then we will start another school year – the last one of jr. high for Anne and the last one of grade school for Ty.
The end of summer is always bittersweet – the days of nonchalance and spontaneous fun come to an end, but the return of structure and order come with the advent of fall. It is during these moments that I feel the passing of time more deeply.
But one thing is for sure, when life is lived the way we have lived it this summer, the memories stick around and the bonds of family grow stronger so that as time continues to pass, we have even more to which we can hold.
We see it on placards often – Live, Laugh, Love.
This is the stuff of which life is made.