I sense a theme today.
Yesterday, during a meeting, my pastor shared this quote:
Who needs you to be God's arms of love today?   -Dave Brannon
Then, this morning Garth Brooks released his new single, entitled "People Loving People," so of course I had to take a listen. (You can listen here. Under the picture there is a button to click.) Side note: LOVE IT! Garth is back, baby!!
As I was listening, Ann Voskamp posted this:
Hey Soul? The thing is: No one gets to the end of their life & wishes they had spent more time at the office — but that they had spent more time loving lavishly. no matter what we do today, let our work be love. Live so "your *love* will flourish & that you will not only love much but *well*. Learn to *love*…" Phil1:9MSG

Just: Spend today loving — it's the only way to take it with you.
Right after I saw that, then I noticed Don Miller posted this picture: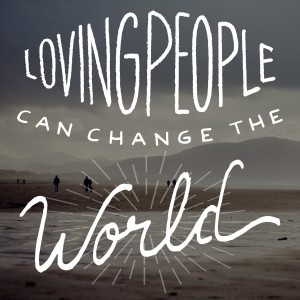 And then right after that, I noticed that Tweet Old Post, the plug-in I use for my blog to re-post some of my older blog posts, re-posted Love = Action.
What do you think the theme of the day is?
LOVE!
It's all about the love! Showing love to others. Breaking the chains of evil in the world through love. Actively loving the world.
We show we are Christians by our love.
We show what we value by what we love.
Hatred stirs up strife, but love covers all offenses. Proverbs 10:12
Above all, maintain constant love for one another, for love covers a multitude of sins. I Peter 4:8
Love is patient; love is kind; love is not envious or boastful or arrogant or rude. It does not insist on its own way; it is not irritable or resentful; it does not rejoice in wrongdoing, but rejoices in the truth. It bears all things, believes all things, hopes all things, endures all things. I Corinthians 13:1-7
Love is it. It is what we do and it undergirds all that we do.
Intentionally work to show some love today!