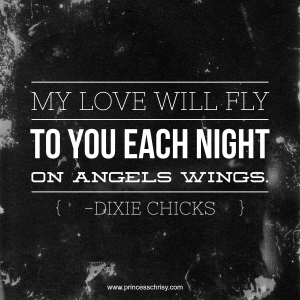 Today's song is the one that makes me think about my boy, Ty.
When he was a baby, this song was like a lullaby for my little one. As he has grown up and we have dealt with sleep walking and night terrors, it has taken on a new meaning, more of a prayer for him to sleep well and have sweet dreams, protected by God and His angels. I love the pictures that go through my head as I listen to the song, pictures of playing cars with Ty on the floor, and reading Goodnight Moon to him before bed.
I love this boy, and always will.
Godspeed (Sweet Dreams)
Dixie Chicks
Dragon tales and the "water is wide"
Pirates sail and lost boys fly
Fish bite moonbeams every night
And I love you
Godspeed, little man
Sweet dreams, little man
Oh my love will fly to you each night on angels wings
Godspeed
Sweet dreams
The rocket racer's all tuckered out
Superman's in pajamas on the couch
Goodnight moon, will find the mouse
And I love you
Godspeed, little manSweet dreams, little man
Oh my love will fly to you each night on angels wings
Godspeed
Sweet dreams
God bless mommy and match box cars
God bless dad and thanks for the stars
God hears "Amen," wherever we are
And I love you
Godspeed, little man
Sweet dreams, little man
Oh my love will fly to you each night on angels wings
Godspeed
Godspeed
Godspeed
Sweet dreams