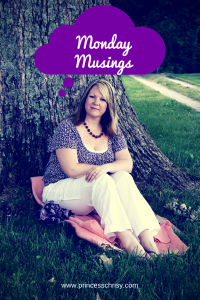 It's Monday. And I am feeling a bit Garfield-like about today.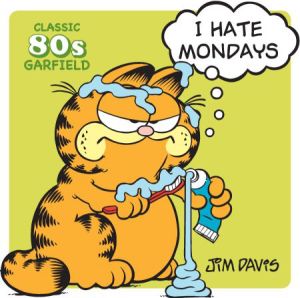 Not that anything bad has happened. I am just tired. And getting sick. And blah.
So instead of drowning in "I hate Monday" madness, I thought I would share a few random things that are going through my head today.
The laughter of my children is the most amazing sound in the entire world. And I was privileged to hear lots of it this weekend.
If you like fun apps, you need to download Relay. My friends and I have been sending funny gif messages back and forth since we discovered it and I may have spent too much time yesterday looking for funny ones to add to my collection for future messages.
If you like books about strong women paired with fantasy, you need to read Pennyroyal Academy. I just started it a few days ago and haven't had a ton of time to read, but I am loving it and can't wait for Anne to read it, too. Nothing like squelching the idea that princesses have to be of a royal bloodline and are just pretty faces with the fact that princesses are warriors for their kingdoms, just like knights.
When the weather turns cold, the depression sure comes on fast for me. I have had to fight to get my workouts in this past week, and I have not done very well with eating right, either. Here's to a new day of doing what I know helps to keep the depression under control – exercise and eating right!
Singing at the top of my voice to some of my favorite music is one of my favorite things to do, ever. Thank you Trisha Yearwood for music that fills my soul!
A good cup of tea makes me smile this time of year when the cold is starting to seep into my bones. These are my three favorite varieties: Trader Joe's Decaf Irish Breakfast Blend, Good Earth Decaf Sweet & Spicy, and Stash Decaf Chai Spice.
I have been working on a crochet project just because it is a pattern I have always wanted to try, but I have been looking for a new gift project and this week I was blessed with not only a person on my heart for whom to do a project, but the perfect project placed right into my hands. I found the perfect yarn yesterday and am looking forward to beginning on the project on Thursday. So excited to be able to bless someone!!
For the last few years, my family has done various forms of daily Thanksgiving. We have had a wall of Thanksgiving where we added post-it notes every day. We have had posters on each of our doors that we wrote reasons we were thankful for each other. This year, life has been a bit chaotic and I haven't gotten anything organized to do daily, so I am thinking about other ideas. Right now, I am thinking of making family "Thanksgiving" trees on Thanksgiving day with all of our family that will be together. How are you practicing Thanksgiving with your family this month?
I warned you that this would be a random post! But just putting these things down in print has helped me move past my initial Garfield-esque response to Monday. If you are having a case of the Mondays, perhaps you should make a list, too!!