You are currently browsing the archive for the Uncategorized category.
Guess what I am up to this weekend!!!
Hanging with these lovelies at the Questival Indy 2017!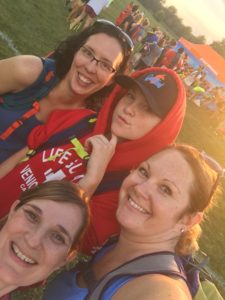 Check us out!!
I have lots of stuff.
Physical stuff.
Emotional stuff.
Spiritual stuff.
But the stuff that is nagging at me these days is the actual stuff that is filling my house.
Clothing. Books. Papers. Pretty much everything I own.
I am constantly facing this thing called excess stuff as my Bible study group and I continue through 7.
Here are just a few of the things that have jumped out at me this week (all are quotes from the book or the workbook):
Jesus was simply relentless in His call toward lean living and reckless generosity.
Show me how you spend money and I'll show you what you really love.
…if we mistakenly spend the majority of this short life on earth earning more, buying bigger, possessing nicer, and chasing better, then at the end we have this: a mostly wasted life. Jesus begged us not to get trapped in materialism, because not only does it derail our purpose here, it's stupid. Our stuff will matter for zero seconds after we die, and all it does is steal precious time, energy, and resources away from our true mission here.
The more openhanded I became with my stuff, the less power they had over me.
Our hearts are deeply connected to our treasures.
We don't think our way into a new life; we live our way into a new kind of thinking.
Our justifications are full of holes we can't make out. How we raise our children, run our churches, consider our communities, interpret who our neighbor is–when done in false illumination, we can sink and entire society, mislead a generation, abandon billions in their suffering, misinterpret the scope of the gospel.
God, money…these are very powerful masters, both tending to induce complete subjection.
One master will slowly pull us away from the other, bit by bit, for righteousness or for self-destruction.
…giving away is somehow sacred, connecting to the sacrificial heartbeat of Jesus. It's as transformative for the giver as a blessing to the receiver. When God told us to give, I suspect he had spiritual formation in mind as much as meeting needs.
Do not be fooled by the luxuries of this world; they cripple our faith. As Jesus explained, the right things have to die so the right things can live–we die to selfishness, greed, power, accumulation, prestige, and self-preservation, giving life to community, generosity, compassion, mercy, brotherhood, kindness, and love.
We've invented a thousand shades of gray, devising a comfortable Christian existence we can all live with–super awesome, except the Bible doesn't support it. According to Scripture no real disciple serves God while addicted to the dollar…Grayed down discipleship is an easier sell, but it created pretend Christians, obsessing over Scriptures we like while conspicuously ignoring the rest.
Maybe we don't recognize satisfaction because it is disguised as radical generosity, a strange misnomer in a consumer culture.
Have you ever seen those used-to-be-beautiful homes that have fallen into disrepair and you dream about how awesome it would be if someone would fix them up and bring them back to their former glory? Have you ever been one of those fix-em-up people? If you have ever been part of renovation of any kind you know that in order to bring things back to former glory (or new glory), most of the time there has to be some kind of demolition first. You may have to tear out the old plaster and lathe walls. You may have to remove the old stained and chipped vanity. You might have to pull out the old pipes or wires. And in the process you end up with a much bigger mess than you started with.
But the mess is necessary. It has to be done. You can't get new while holding on to the old.
In the next couple of weeks, we are going to enter the season of Lent. This is the time in the church calendar leading up to Easter. It is a time of preparation. It is a time to remember the 40 days that Christ spent in the wilderness fasting and being tempted by Satan before beginning His ministry on Earth.
For this reason, I find it quite coincidental or rather, "God-incidental" that my Bible Study girls and I decided to go through the study, The 7 Experiment: Staging Your Own Mutiny Against Excess, by Jen Hatmaker. It is based on her book, 7: An Experimental Mutiny Against Excess.
In less than 14 pages, I was already to the point of being wrecked. The Lord was helping me to see some areas in which I have some work that needs to be done, some tearing out that needs to happen to make room for building back up.
I can tell it is going to be painful. I can tell that I am going to get defensive about certain things that I don't want to have ripped out because I like them just the way they are. But I can also tell that it is work that is needed and necessary in order to make room for more of Jesus and His ways to take over in my life.
So let the wrecking begin.
I would challenge you to pick up this book, or another one that rocks your world a bit, as we enter this season of Lent. Let some wrecking happen in your life as well, so God can do some rebuilding.
There is a reason that electronic communication backfires when it comes to communicating big issues – there is no context of the non-verbal cues we use to communicate. You can't see facial expression. You can't hear voice inflection. You can't see body posture.
When we communicate using just the typed word and not the spoken word, we are missing part of what is being communicated.
And let's be honest, the prevalence of electronic communication has emboldened us to say things to one another that we would never say face to face.
The political warfare, belief judgment, and hate speeches waged on Facebook would never happen at a dinner table conversation. And often, these "conversations" begin with one person giving a seemingly innocuous comment, with the purpose of intelligent debate, but without the important non-verbal cues, and even more important relationship factor, these conversations become divisive and hurtful.
I think that this freedom of speaking without context and relationship has spilled over into our face-to-face conversations as well. We don't think before we speak. We assume that our opinion needs to be voiced and heard by everyone. We don't think about how our words have the power to hurt and to heal.
But that is the thing. Our words have the power to hurt and to heal. And we need to be mindful of that every time we speak – whether with spoken words or typed ones. We need to be aware of how our words are coming across – both verbally and non-verbally. We need to be aware that people will carry our words with them – both hurtful and healing.
I want to make sure that the words I speak are always edifying and building up. It is hard. Sometimes I fail. But I want what people take away from me to be healing and uplifting. I don't want them to carry away words that tear them down and hurt them.
As you speak today – at work, in your family, through e-mail, on social media, via text – speak words of healing, hope, health, and edification. And if possible, do as much in person as you can, it makes a difference.
I have been going through a study with some friends by Beth Moore entitled, When Godly People Do Ungodly Things. She talks a lot about the idea of seduction – not just sexual, but seduction into sin – and the fact that as followers of Christ, we have to be on guard because Satan has a plan to make us fail and fall into sin so that we aren't able to do the work that we were intended to do as the people of God.
Then this morning, I was reading this blog post by Anne Marie Miller, and the common thread from her post and this study that stuck out to me in a glaring ways is this:
Don't hide. Bring everything into the light.
When we hide our hurts, our fears, our sins, or anything else, we are giving those things power over us. We are allowing the darkness to rule. We are allowing our souls to be eaten away by these things that we keep to ourselves.
But when we bring them out into the light, when we share our struggles with others, when we place those things that have been ruling our life at the foot of the cross, we remove their power over us and allow the power and light of Christ to permeate those dark areas and bring healing and wholeness.
Because here's the thing, darkness cannot overpower light, but light always dispels the darkness.
Bringing everything into the light doesn't make everything better immediately. Bringing everything into the light doesn't erase the hurt and the pain. Bringing everything into the light doesn't change the fact of sin.
Bringing everything into the light does make way for healing to take place. Bringing everything into the light does allow the work of grace to begin.
And that is what is needed more than anything.
If there are areas of your life that are living in darkness, I encourage you to bring them into the light of God's love and grace. Talk to someone. Talk to God. Don't let the darkness win.
Life in the light is so much better.
(An excerpt from a recent sermon I gave.)
I will probably get in trouble for this, but I read a quote on Pinterest recently that said, "Ladies, if a man says he will fix it, he will. There is no need to remind him every 6 months about it." Now, I am not saying that my husband is anything but prompt when I ask him to fix something around the house, but watch out for the one switch in the downstairs bathroom that turns on the very loud and needing to be replaced exhaust fan. But it hasn't been six months yet, so I don't need to remind him.
In all seriousness, waiting is not a strong point for any of us, and some of us are a little worse at it than others, especially when we are waiting for God to work in a particular area of our lives that we want to see changed.
And yet, much of our lives are spent waiting. And much of what I see in scripture is people waiting.
Many Psalms speak to this idea of waiting.
Psalm 25:5 Lead me in your truth, and teach me, for you are the God of my salvation; for you I wait all day long.
Psalm 25:21 May integrity and uprightness preserve me, for I wait for you.
Psalm 27:14 Wait for the Lord; be strong, and let your heart take courage; wait for the Lord!
Psalm 31:24 Be strong, and let your heart take courage, all you who wait for the Lord.
Psalm 33:20 Our soul waits for the Lord; he is our help and shield.
Psalm 37:7 Be still before the Lord, and wait patiently for him; do not fret over those who prosper in their way, over those who carry out evil devices.
Psalm 37:9 For the wicked shall be cut off, but those who wait for the Lord shall inherit the land.
Psalm 37:34 Wait for the Lord, and keep to his way, and he will exalt you to inherit the land; you will look on the destruction of the wicked.
Psalm 38:15 But it is for you, O Lord, that I wait; it is you, O Lord my God, who will answer.
Psalm 39:7 "And now, O Lord, what do I wait for? My hope is in you.
Psalm 40:1 I waited patiently for the Lord; he inclined to me and heard my cry.
Psalm 62:1 For God alone my soul waits in silence; from him comes my salvation.
Psalm 62:5 For God alone my soul waits in silence, for my hope is from him.
Psalm 69:3 I am weary with my crying; my throat is parched. My eyes grow dim with waiting for my God.

Psalm 130:5-6

I wait for the Lord, my soul waits, and in his word I hope; my soul waits for the Lord more than those who watch for the morning, more than those who watch for the morning.
Why we have to wait may be due to a number of reasons:
We may have something that we need to learn – trust, patience, to see with God's eyes, to hear His will above our own, to come to the end of us and lean fully on Him, to be fully committed to His work, or a variety of other things. I liken this to making bread. We wait for bread to rise because the yeast has to do its work. If you mixed up bread and didn't wait for the yeast to rise, the bread would fail and wouldn't be suitable for the purpose that it was intended – eating. But when you wait for the yeast to do its work, and wait for the heat of the oven to complete the work, the end result is delicious, warm, soft, bread that is ready to eat. We are like bread; we need the time for God to be working in our lives, like yeast, filling us up with Him. We need the heat of struggle to grow and become the people who He has created us to be. And at the right time, which is determined by God, we will be ready for what the Lord has called us to or promised us that He would accomplish in our lives.
We may have stepped outside of His will and that means waiting a bit longer to get to the finish line – kind of like the Israelites. When they built the golden calf and began worshipping created things rather than the creator, they brought upon themselves a period of waiting that wasn't in God's perfect plan for them. An entire generation missed out on the promise of God because of their sin.
God may want to make sure that He is glorified and there is no way to explain the fulfillment except that it was God. The perfect example of this is Isaac being born to an old man and a barren woman. This would also be true of the Israelites Exodus from Egypt. They couldn't have escaped without the very powerful hand of God bringing them out of slavery and into freedom.
We may not be ready yet to hear/see/do what the Lord has for us and there needs to be more time for learning and listening. Let's be honest, we don't spend each day in expectation of seeing God's hand at work in little ways, much less miraculous ways. And when we don't live with that sense of expectation, we are likely to miss God's handiwork. Often we need to cultivate an attitude of expectation so that we are ready to see and participate in His work.
One of the hardest reasons that we have for waiting is just our inability to understand God's timing. In Isaiah 55:8-9, God says, "For my thoughts are not your thoughts, nor are your ways my ways, says the Lord. For as the heavens are higher than the earth, so are my ways higher than your ways and my thoughts than your thoughts." Psalm 90:4 says, "For a thousand years in your sight are like yesterday when it is past, or like a watch in the night." God's timing doesn't always make sense to us because it is not the same as our timing; it is on a different plane. God's reasons for waiting involve a bigger picture that we are not able to see. We can't assume we know what timing is best because we can't know the whole story.
God may want to use us as examples to others who are waiting on Him.
Other people who are a key part of the fulfillment of His promises may not yet be ready.
Satan's interference sometimes can cause an answer to be delayed, like in Daniel. God sent an answer right away, but it was delayed because it was blocked in the spiritual realm.
Nine years ago I felt the Lord call me to pastoral ministry. In the years since then, I have been waiting for Him to bring it to pass. One of the scriptures that He used early on for me was Luke 1:45, "Blessed is she who has believed that what the Lord has said to her will be accomplished." My job for the last nine years has been simply to believe and follow where the Lord leads. Not to push ahead. Not to make something happen. Simply to believe that He will bring His word about in my life and do the things that He leads me to do along the way. I have gotten frustrated at times. I haven't liked how certain things have played out. But I have never doubted what I heard from the Lord nine years ago. And then two months ago He made a big move – and not one that I would have anticipated or chosen. The fulfillment isn't complete, but it is coming. I don't know how many more years I will be waiting, but I do know that God is faithful.
So what is the most important thing when it comes to waiting? I think that the most important thing is to remember that when God speaks it comes to pass. God's promises never fail. Isaiah 55:10-11 says, "For as the rain and the snow come down from heaven, and do not return there until they have watered the earth, making it bring forth and sprout, giving seed to the sower and bread to the eater, so shall my word be that goes out from my mouth; it shall not return to me empty, but it shall accomplish that which I purpose, and succeed in the thing for which I sent it." Think about it, when God said, "Let there be light," what happened? There was light. God's word comes to pass! His word doesn't return to Him empty or void. When he speaks it, it is finished, it is done. "You see the one who called us is faithful, and He will do whatever it takes to sanctify us to fulfill our callings…Remember, huge things are going on out there that we just don't understand." God is faithful.
I have a friend who has been struggling with an illness for nearly 20 months now. It is debilitating to the point that some days she just can't get out of bed. She has had a vibrant ministry among children, and for the first 14 months of her illness, had to let go of almost all responsibility for that ministry. Early on, she knows she heard the Lord tell her that He was going to heal her, and yet, while she is slowly improving, it hasn't been an instantaneous healing. But she also knows that God's word does not return to Him void. When He speaks, it is done, even when we don't see the immediate fulfillment. Does she have days where she struggles? Absolutely! But she hasn't given up hope because our God is trustworthy and does not lie.
We must persevere in our times of waiting. We must not give up hope. We must not try to make it happen on our own or in our time. We must trust that the God who created us knows us best and will bring things about in His timing, and we must be willing to wait.
What are you waiting for today? A new job? A child to return to faith in Christ? A revival of the Lord's people? A family situation to be resolved? A broken heart to be mended? A friendship to be restored? A marriage to be renewed? Healing in your body? A prayer from deep in your heart to be answered? Something else I haven't mentioned? Have you been anxious, thinking the Lord needs to act a little faster, or differently? Have you been frustrated with the lack of movement? Have you been trying to push things along, thinking maybe God needs your help?
I don't ask these questions to shame you or make you feel bad, but to help you seek the face of the One who can bring you to a place of trust in Him during your time of waiting.
Waiting is hard when we simply see it from our point of view. But when we change our perspective and see it as part of God's larger plan, we can wait with joy, with patience and with anticipation of what the Lord is at work doing in the situation now to bring about His perfect will.
"May God himself, the God of peace, sanctify you through and through. May your whole spirit, soul and body be kept blameless at the coming of our Lord Jesus Christ. The one who calls you is faithful and he will do it." I Thessalonians 5:23-24
Do you want to have good relationships with people?
Do you want to have people you can depend on?
Do you want to have a strong marriage?
Do you want to have children that come to you with their joys and sorrows?
I think that almost all of us would answer these questions with, "YES!"
And I think there is one key to having all of these things.
Practice.
You have to practice being a good friend to have good friends.
You have to be dependable if you want people to depend on.
You have to work at a strong marriage to have one.
You have to be available to your children for the little "silly" things if you want them to come to you with the big things.
I heard it said once that you don't get the benefits of being close without the practice. And it is true. You don't just suddenly have great friends you can call at a moment's notice. You don't just magically have an amazing marriage. It takes work. It takes practice. It takes going through the good, the bad, and the ugly with others to get to the good stuff.
You have to make time for your friends and family. You have to plan fun things to do. You have to be available to them if you want them to be available to you. You have to share your heart if you want them to share theirs.
Is it always easy? Is it always fun? No. But it is necessary.
How is your practice going?
Today we are snowed in our house. We got somewhere in the vicinity of 13 inches of snow yesterday and the subsequent blowing, drifting, and sub-zero temps have essentially shut down most of the area. Schools are closed, offices are closed, even Mike's employer shut down so he didn't have to go into work last night.
The kids are thrilled to have an extra day of break, and I am thrilled to get another day with them.
But it does throw off my plans a bit.
Today was to be the first day of a new reality – unemployment. Yes, I haven't worked since I left work on December 20, but today was going to be the first day where the kids went off to school and I didn't go to work.
I kind of had some plans for how today might look.
But thanks to the intervention of the weather, those plans get put off for another day.
Today, I will focus on playing with my kids, watching movies, crocheting, cooking, and whatever else we feel like doing on this snow day!
If you are one of the lucky ones experiencing a snow day, enjoy the day and the extra time to just relax and have fun!
Thank you all for the reading and sharing of my blog in 2013! I appreciate each one of you and I hope that you have read things that have helped you think and grow in your life in some way.
As 2013 comes to a close and 2014 begins, I thought it would be fun to take a look back at the "Top 10" blog posts on my site for the past year. Take another read of some of your favorites or pass them along to friends who might enjoy reading them.
I hope 2013 has been a year of you listening to the Lord and that 2014 will bring you even more opportunities to hear His voice!
10. From a Modern-Day Abolitionist
8. Too Short
7. Dream On
4. Porch Time
3. Shine!
2. Bittersweet
December 2013
Dear Friends,
As I sit here writing this letter I am struck by the two words reflection and anticipation – reflection on another year passing and anticipation of a year yet to come. And it is often only in the reflection that we see just how many of the things that we anticipated actually came to pass, and possibly in ways that we couldn't have begun to anticipate.
Anne turns 13 in January and has kept us busy this year with tumbling and cheerleading. In addition to cheering for the Jr. Comets, the squad I coach in the late summer and early fall, she is also now a Greenville Junior High Bluejay Cheerleader. This means lots of time at practices, basketball games, and cheer competitions (and lots of running her around for Mom and Dad). Her squad qualified for state competition their first time out, so we will be traveling to Springfield the first weekend of January and celebrating Anne's birthday with the state cheer competition! She is also doing very well in her 7th grade year and becoming more and more grown up every second. I keep telling her to stop, but she just won't listen!
Ty turned 10 in October and is in 4th grade where he is thriving. As always, he keeps us laughing and shaking our heads at his silliness. Between knowing every possible fact about anything he can get his hands on, from Star Wars to Greek Mythology, building with his Legos, and playing outside with his neighborhood friends, he is always busy. He played  baseball again this summer and that seems to be his sport of choice, although if we would let him he would be on the computer, his DS or the Wii all that time.
The highlight of my year was completing the Goofy Challenge at Disney World in January, 39.3 miles across two days. It was the hardest, most exhilarating experience of my life. In addition to the rigors of training, being a wife, a mother, a taxi driver, and a concert-goer (Mike gave me the gift of a ticket to every country show in St. Louis this summer), my third year of coaching the Jr. comets Cheerleaders was a good one. I so enjoy spending time with these girls! I continue to blog and recently moved my blog to a new location, http://princesschrisy.com. You can sign up there to get notification e-mails for each post, or like Daughter of the King on Facebook (http://www.facebook.com/princesschrisy1). I also continue to preach a couple of times a month at a six-church Presbyterian Parish in the area and I thoroughly enjoy doing that.
Mike continues his work of 9 years at Carlisle Syntec and is doing well there. But as you know, he would always rather be hunting or fishing and he got to do plenty of fishing with his dad and my dad this past year. He has worked hard this year to perfect his meat smoking technique, and the kids, my parents, and Jackie (our neighbor girl who is otherwise known as our third child) would tell you that he has the touch! Pulled pork and super thick pork steaks are the favorites.
I suppose the biggest news of the year is that December 20 marks the end of 13 years (plus 1-1/2 previously) as Church Administrator of the Greenville Free Methodist Church. While we don't quite know what is next for our family, we do know that God is up to something and is moving us on to a new chapter in His story for us. We ask that you would be praying with us that we would hear His leading.
As we reflect on 2013, it was a year marked by accomplishments, joyful family times, moments of God moving, and even sadness at the end of a chapter in God's story for us. Yet as we look to 2014, we are anticipating the good things that God has planned for us. We hope you have had a good year and have seen the ways that God is at work in your lives and that you are also anticipating great things in the coming year. To God be the Glory!
Mike, Chrisy, Anne and Ty Ennen