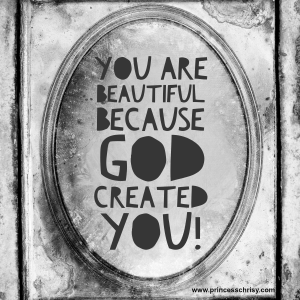 Let's start with the obvious.
It is hard to be a woman in today's society when it comes to our looks.
Body image. Models. Photoshop. Exercise plans. Get thin quick hoaxes. Diets. Songs that project a standard no woman can reach. Fat. Skinny. Chunky. Bulky. Ugly. Beautiful. Quirky. Pretty. Cute. It is too much. And I propose we switch out all of these words and standards for a different word. Yes, just one word.
Created.
All of us were created in the image of God. That means that no matter what we look like, what our body-type is, how our hair looks, how tall, short, fat, or thin we are, we are beautiful because that is the way that God created us. Psalm 139 says he knit us together in our mother's womb." I knit. It isn't a quick thing. It takes time. It is a process. He took the time to work on us and make us to be exactly the way He wanted us to be.
And all of our daughters (and sons) need to hear this. I focus more on daughters, because most often we are seeing women portrayed in a certain way in our society. You have to be this or that if you want to be popular. You can't be this or that if you want to be accepted. Photoshop has scarred the way women see themselves.
News flash – no one looks like the women on the magazines, even the women on the magazines, without lots of work, much of which happens on a computer screen.
Navigating this with our daughters is tricky. We want them to feel good about who they are. We want them to make healthy choices with their lives. But we can't allow them to hear that they don't look good enough, or that so-and-so is prettier, or does their hair better, or dresses better, etc.
We have to be the ones who remind them that they are beautiful, because that is exactly how God created them.
Period.
End of story.
No hairstyle, clothing item, diet plan, photo angle, or anything else can make us more beautiful than the beauty of being created in the image of God.
Let's start making sure that our girls are being taught, shown, and told this daily. Let's figure this out for ourselves so that we are able to believe what we are telling our daughters. Let's embrace who we are created to be and help our girls embrace who they are created to be.
You are beautiful.
Because God created you.