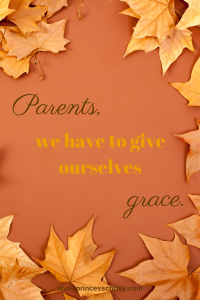 Confession time. Again.
I wrote yesterday's blog post and was feeling pretty okay about how we have chosen to handle discipline with our children.
And then in the night, just 6 hours before the blog post was scheduled to go live, I once again found myself face to face with one of my children about an issue that I thought we had taken care of previously.
In case you were wondering, that was at approximately 2:03 a.m.
I then laid there for the next who knows how long wondering what exactly I am doing wrong in parenting this child and why what we are doing isn't working.
It was in those moments that one word came to me: grace.
Yes, I have to give grace to my children, the same way that God gives grace to me, but more importantly I have to give grace to myself.
Parents, we have to give ourselves grace.
A friend of mine defines grace this way:
Grace is when we get what we don't deserve.
Another definition is:
the free and unmerited favor of God, as manifested in the salvation of sinners and the bestowal of blessings.
In other words, giving ourselves grace is letting things go and not punishing ourselves like we think we deserve.
We are not going to be perfect parents. We aren't even going to come close.
We are going to mess up. We are going to snap. We are going to have moments that we think will likely send our children straight into counseling for their entire adult lives.
The minute we think we have the parenting thing down-pat, there will be an event that makes us question our ability to keep ourselves sane and alive, much less raise children.
In these moments, we have to remember that we aren't called to do this parenting thing all on our own. We have a God who is right there, ready and willing to help us as soon as we ask. A God of grace.
Rest in that.
Keep doing your best, with God's help, and allow yourself grace when you think your parenting skills are lacking.