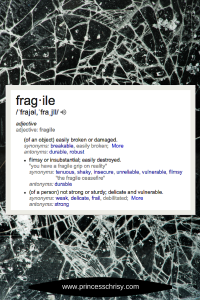 I am feeling fragile today.
I feel like if someone were to touch me I would just shatter into a million pieces.
This is how depression feels sometimes.
Some people think that if you can get out of bed and function than you can't possibly be depressed.
They are wrong.
Some of us have such strong personalities that we don't want anyone to know we are struggling.
Some of us have such a strong sense of responsibility that even though we want to quit, we can't.
Some of us have children to get to school and jobs to do, so we don't have any other choice.
I can't explain it. I don't know why I can be fine one morning and by that evening the depression gets the upper hand. I don't understand why I can't just make it go away. I don't get why my chest hurts and I can physically feel the heaviness settle in.
But I do understand that I am not the only one who feels this way. I know that those of us who struggle with this illness are often misunderstood by those who don't. I know that we can feel isolated and alone when the bottom drops out.
And that is why I am writing this post: to let you know that you are not alone. You have comrades-in-arms to help you in the battle. You have friends who know how you feel. And even when it feels like it will never get better, you need to be reminded that depression lies. (Thank you Jenny The Bloggess for keeping that truth in front of me!) No matter what you feel in the moment, know that it will get better. It may take some time. You may need to take some time for yourself. You may need to seek counseling. You may need to get or tweak medication. But it will get better. Don't let the lies of depression win. Keep fighting. Even if that means you need to stay in bed for a day and start over the next day. Keep fighting. You are worth it.