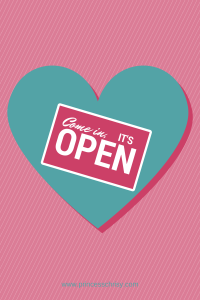 In 2003, a few weeks before Ty was born, I was suffering from that all-too-familiar thing called "mommy guilt." Here I had spent the previous two, almost three, years focusing all of my attention on sweet little Anne. She could climb up on my lap at any time. She got all of our snuggles and focus. And now, that was all going to change because of this new baby that was coming in to our home.
Did Anne have any concept of this? Absolutely not! But I did. I was afraid that she would feel neglected. After all, I knew what kind of attention a new baby took. I knew what it was like to nurse a new baby. I knew that my lap would be occupied much of the time with this new life coming into our home.
I remember sitting on the couch one evening, my pregnant belly taking away much of the room on my lap that Anne had enjoyed for the first part of her life, but she was doing her best to sit on that ever-dwindling lap. While she sat there, I remember telling her that there would always be room for her on my lap. Even if I was nursing the baby. Even if he got bigger and seemed to take up too much space. She could always climb up.
My kids are 11 and almost 14 now. It isn't very often that they climb up on my lap anymore. But as they have grown, they have learned something even more important – mom's lap isn't the only thing that is always open. Have a bad dream or are feeling sick? Climb on in to mom's bed. Have a bad day? Curl up in mom's arms. Need to talk about something that is bothering you? Mom's ears are ready to listen. And all of this is true, because mom's heart is always open. It doesn't matter if it is 2:00 a.m. or 2:00 p.m., mom is there, ready and available.
And here's the thing, because they know that my heart is always open to them, they are learning to keep their heart open to me. When there are things we need to talk about – whether it be what is happening in the world, correction that I need to give them, or something else, they are ready and willing to hear from me. When there is something going on in my life that is making it hard for me to get through, guess who is there and ready to love on me? Yep, those same kids!
A huge part of parenting is being available to our children. When we get too busy, we are in essence, closing ourselves off from these children that need us more than anything. I heard one time that once children reach the age of 10, their parents are no longer the primary influence in their lives. Instead, the primary influence becomes their peers. This is a scary statistic to me, knowing what I know about our society. I do my best to fight this. This is why I make myself readily available to my children. This is why I spend time with them. This is why I make sure that they know I am always open to whatever they need from me.
Be sure you are hanging out the "OPEN" sign to your children. Be available to them. Be ready to listen. Be there for them. They need you.