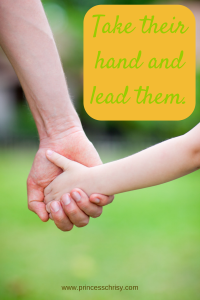 Ephesians 6:1-4, NIV
Children, obey your parents in the Lord, for this is right. "Honor your father and mother"—which is the first commandment with a promise— "so that it may go well with you and that you may enjoy long life on the earth." Fathers, [parents] do not exasperate your children [by coming down hard on them]; instead, bring them up [take them by the hand and lead them] in the training and instruction of the Lord [the way of the master].

[brackets mine adapted from The Message]
We often focus on the first part of this passage, the part where our kids have a command to obey and honor us, as their parents. But I want us to look at the second part today. The part that says that we, as parents, have a role to play in this, too.
We are not to exasperate our children. We are not to come down hard on them. We are not to irritate intensely and infuriate them. Instead, we are to take them by the hand and lead them. And we aren't to just lead them anywhere we choose, but we are to lead them in the ways of the Lord. We are to train them in His instruction.
When we are doing this the Lord's way, then our children are going to honor and obey us. When we give them what they need, they give us what is needed from them. We set the example. We give the training. They don't automatically know how to obey. They must be taught how. By us.
I love this picture of taking them by the hand. It is not a picture of standing over them with our fingers pointed and our voices raised. It is not us walking ahead and assuming that they are following. It is us, walking together along a path, holding hands, and guiding.
This is the Lord's way of leading us, and the way we need to be parenting the children that He has given to us.