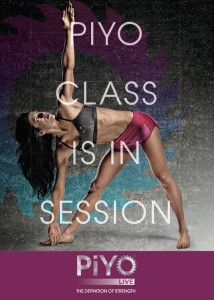 Discover why strong is the new sexy with PiYo LIVE! Inspired by Pilates and yoga, PiYo cranks up the pace—and the fun—for a pulse-pounding, calorie-crushing workout that defines every inch of your body. It's low-impact, yet high-intensity. No weights.
No jumps. Just hardcore results.
NO IFS, ANDS, OR OMMMS
COME EXPERIENCE PIYO LIVE!
Greenville First Presbyterian Church Gym
STARTS APRIL 7, 2015
Tuesdays and Thursdays 6 pm
Saturdays 7 am
Chrisy Ennen, Instructor
Contact me for more information or join our Facebook Group to stay up-to-date with class happenings!
© 2014 Beachbody, LLC. All rights reserved. Beachbody, LLC is the owner of the PiYo trademark.