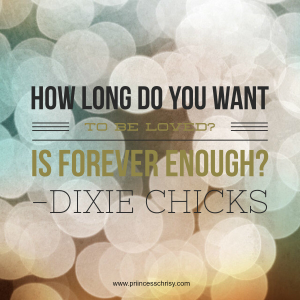 This month has been good. I have enjoyed posting every day about things I have learned about being a parent. It hasn't been easy, but it has required me to think about my kids, what I am intentional about and what I let slide, and what is most important to me as a parent.
But what I most want is for my children to know how much they are loved. Forever.
So today, I dedicate this song to them, this 31-Days of blogging to them, and I commit again to being the best mom that I can be to these precious lives that God has given to us to raise and love.
Lullaby
Dixie Chicks
They didn't have you where I come from
Never knew the best was yet to come
Life began when I saw your face
And I hear your laugh like a serenade
How long do you want to be loved
Is forever enough, is forever enough
How long do you want to be loved
Is forever enough
Cause I'm never, never giving you up
I slip in bed when you're asleep
To hold you close and feel your breath on me
Tomorrow there'll be so much to do
So tonight I'll drift in a dream with you
How long do you want to be loved
Is forever enough, is forever enough
How long do you want to be loved
Is forever enough
Cause I'm never, never giving you up
As you wander through this troubled world
In search of all things beautiful
You can close your eyes when you're miles away
And hear my voice like a serenade
How long do you want to be loved
Is forever enough, is forever enough
How long do you want to be loved
Is forever enough
Cause I'm never, never giving you up
How long do you want to be loved
Is forever enough, is forever enough
How long do you want to be loved
Is forever enough
Cause I'm never, never giving you up
Is forever enough
Cause I'm never, never giving you up